Interesting PROBASCO Facts
by Nora J. Probasco
(Last updated 3 Jul 2013)
---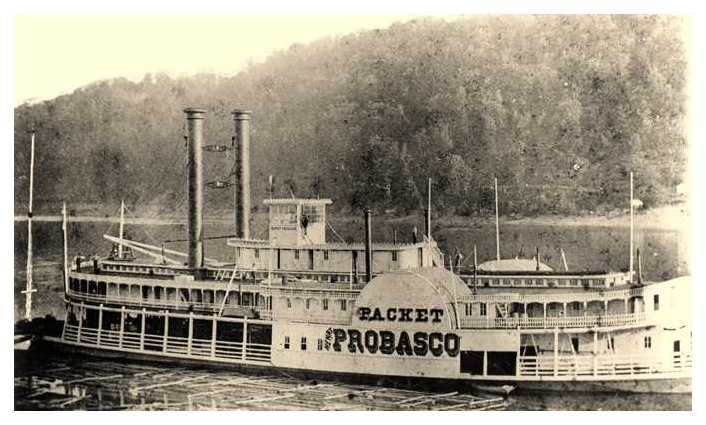 (Henry Probasco* Madison, IN. 1873. Image located at the Public Library of Cincinnati & Hamilton County, OH)
PROBASCO PACKET

1864-1900

- The great wedding cake packets came right after the Civil War. Majestic 300-foot side wheelers of a thousand tons thrashed the waters, shooting fire laced smoke from 70-foot twin stacks.

The packet, Probasco, was one of these queens of the Ohio River in the gold braid trade. Forty feet above the water, the captain and officers worked the 12-foot mahogany wheel in a filigreed pilothouse atop the texas. These queens were frosted white cakes of steamboat gothic woodwork. Below, mahogany salons with velvet drapes glowed in low crystal chandelier light. The Probasco ran the Cincinnati-St. Louis-Memphis route, lowering her stacks for bridges with the A-frame crane on the fore deck.

She was named for Henry Probasco, the merchant who presented Cincinnati with the fountain that graces the city's center square. She went down at 6:00 p.m. n November 14, 1873.

...from Fifth Third Bank Brochure

Additional information I found through research:

The steamboats actual name was the "Henry Probasco." The steamboat was lost on November 21, 1873. From the book, "The Ladies' Repository" we find a description of what happened:
"...We were furnished a most striking instance of this fact on the second day from Metropolis [Cincinnati]. Some twenty-five or thirty miles below that point is what is known as the "Grand Chain" a row or chain of rocks extending across the river, and presenting a considerable obstruction to navigation. The river pilots, who have passed them scores of times in each year, however, generally manage to avoid them, from a familiarity with their location. Sometimes, though, in a time of high water when the rocks are submerged, and the landmarks along shore are concealed by a heavy fog, the most experienced pilots lose their reckoning, and are unable to tell the precise spot where the dangerous sharp-pointed rock lies, concealed by the water. This had been the case on the previous night, and on one of the most formidable rocks of the Grand Chain, as we approached it, lay the steamer Henry Probasco, broken in two "amidships," the front and rear of her lower decks covered with water, and her passengers and crew waiting the arrival of a steamer to take them off. She had run on to the concealed rock in the darkness and fog of the night, and, striking midway, sprung a leak and broken down..."

In a lawsuit regarding whether the steamboat was insured or not at the time of the loss states the steamboat's name was the "Henry Probasco." Though a Cincinnati court found for the owner of the steamboat that it was covered, it was reversed by the supreme court.

NOTORIOUS PROBASCOs

- In 1934, it became a federal crime to rob a federal bank, assault or kill a federal agent, bribe a federal prison employee, transport stolen property valued at $5,000 or more across state lines, flee from one state to another to avoid prosecution, or possess an untaxed machine gun. Five Midwest governors and the Attorney General had collectively offered a reward for John Dillinger's apprehension, or information leading to it. He was unofficially America's Public Enemy Number One.

Dillinger went into hiding in Chicago, Illinois. In late May, he and Homer Van Meter underwent plastic surgery at the Chicago home of James Probasco. Dr. Wilhem Loesser and Dr. Harold Cassidy performed the operations, also scarring the outlaw's fingers in an attempt to obliterate their fingerprints

..."Southwestern Lawmen Slew Dillinger" by Rick Mattix

James J. Probasco (taken July 26, 1934)

© Bettmann/CORBIS

Original caption: "James J. Probasco, who committed suicide by leaping from the window of the 19th floor office of the Federal Bureau in Chicago during an intermission in the agents' questioning of him on reports that his home was used by the plastic surgeon who operated on John Dillinger."

PATRIOTIC PROBASCOs

- Jacob O. Probasco served in troop "E" Sixth Michigan Cavalry and rode with Brigadier General George Armstrong Custer during the Civil War. Beginning as a second corporal, he rose in successive steps to the rank of captain, winning his way by merit alone.
..."Riding with Custer" by J. H. Kidd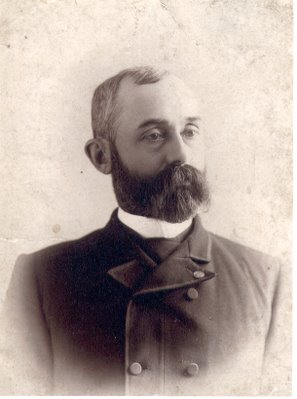 From Gwen Fuller Archives
PROBASCOs IN THE NEWS

- In 1990, Dr. Ray Probasco, senior pastor of the Center Chapel United Methodist Church in Muncie, Indiana, delivered the eulogy at Ryan White's funeral. Ryan made history by forcing schools to reevaluate their policies on allowing children with AIDS to attend class.

- Steve Probasco is an award winning, full-time outdoor writer/photographer living in Raymond, Washington. Steve specializes in fly fishing and travel, and his "research" takes him all over North America. Steve's articles and photographs appear regularly in several regional, national, and international publications. Steve is the author of eight fly fishing books and one video on fly tying, with several other works in progress. His books are available through Amazon.com.

PROBASCO HOMES, FARMS & LANDMARKS

- Probasco-Ludlow house at Lawrenceburg, Dearborn County, Indiana. Italianate domicile type with cubical block surmounted by a cupola. "Indiana Houses of the Nineteenth Century" by Wilbur D. Peat
- Probasco-Morrison-Silver House, 130 McCullum Street, Knightstown, Henry County, Indiana. Built in 1868, this home is a superb example of second empire styling and was built for Richard Probasco, who owned a large dry goods store on Main Street. The second owner was John I. Morrison, prominent Indiana educator, who was a delegate to the Indiana Constitutional Convention, State Treasurer and is credited with creating the office of State Superintendent of Public Instruction. French mansard style.

Richard Probasco, b. 1824, was the brother of Henry Probasco whose house follows.

- Oakwood, West Cliff Lane, Clifton, OH, home of Henry Probasco. Considered the finest Norman Revival home in the Midwest. For a more detailed description.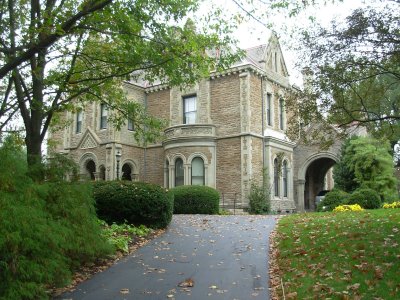 The home of Henry Probasco, Oakwood on West Cliff Lane, Clifton, is a tourist attraction in Cincinnati. Businessman Henry Probasco, the merchant prince of Cincinnati, made his fortune in the hardware trade. He gave the city of Cincinnati a fountain, made by the highly regarded Royal Bavarian Foundries of Ferdinand von Miller in Munich, Germany, in honor of his deceased business partner and brother-in-law, Tyler Davidson, which now stands on Fountain Square, the city's center square. This square was originally called Probasco Square. The fountain was dedicated on October 6, 1871 and had cost Henry Probasco $110,000, though the original estimate had been $30,000. The city of Cincinnati had incurred an additional $50,000 expense in preparing the square for the fountain.

Tyler Davidson Fountain, also known as the Probasco Fountain

In later years, the fountain had begun to deteriorate but the town of Cincinnati, in the last few years, restored the fountain as seen below:

Henry Probasco also donated a fountain to the city of Clifton which is smaller in stature.

- Hellebush-Probasco House, 120 E. Fountain Avenue, Glendale, OH, built 1875.

(2006 © Village of Glendale, Ohio located at http://www.glendaleohio.org/cs32.html)

- Probasco--Dittmar Farmstead, 61 Bucks Mill Rd., Colts Neck, New Jersey. National Register of Historic Places.

- There is Probasco Farms in Wrightstown, Burlington County, New Jersey.

...Alan Wildblood

- In New Brunswick, New Jersey there is a site called Probasco's Mill, the remains of which can still be seen where its stream flows into the Raritan River. Across from this site Alexander Hamilton fought off the British at Raritan Landing.

Contributed by a "History Buff" in New Brunswick, New Jersey
PROBASCO SCHOOLS

- Beginning in 1876 there was a Probasco School located in Sherman Twp, Dickinson County, Kansas. It was a one room schoolhouse located in District 85 and the teacher was Dora McMillen. The school was closed in 1953.

PROBASCO OIL FIELD

- In the Kansas Geological Survey, there is a Probasco Oil Field located in Rooks County, Kansas which was discovered in 1984.
- Probasco Flying Service in Floydada, TX.

- Probasco Karts in Shallowater, Texas.
PROBASCO RETAIL ESTABLISHMENTS

- Probasco's Window Decorating 116 W Crosstown Pkwy, Kalamazoo, MI. Additionally, the Probasco's fabric store had stores in Kalamazoo and Battle Creek, Michigan.
- Probasco's Christian Bookstore and Wig Shop, 344 N Lincoln Ave, Loveland, CO 80537 Opened in 1968 by Paul and Freida Probasco as a clothing store, which was phased out in 1972 when they began a Christian bookstore and wig store. Most of their wig customers had lost their hair to cancer.
New Jersey
- Probasco Landing - Listed as a village of 50 people in 1940, the landing is depicted by only a wharf in 1877. It was named for the Probasco family of New Jersey who owned land around the area in the years 1867-1892, after which time they moved to Kansas. A cannery and steamboat wharf supplied commerce.It is located on Skipton Creek two miles north of Longwoods. (The family was Richard L. W. Probasco and Emma Challis.) From Pot Pie to Hell & Damnation by Laurence G. Clagget, p. 15.
Arizona
- There is a Probasco Drive in Tucson, Arizona. It is interesting to note the U. S. Boarder Patrol offices in Tucson are located on Probasco. ...Gene Probasco. Per Betty Hemm her uncle, Ottie Roy Probasco who was in Tucson by the 1930 Federal Census, owned a bar in Tucson and named his street Probasco. Now we know where the name came from.
Georgia
- Probasco Street in La Fayette, Georgia
Indiana
- Probasco Street in Lawrenceburg, Dearborn County, Indiana.
Maryland
- In Talbot County, Maryland (on the Eastern Shore) and just down the road off of Route 50 is a road called Probasco Landing along Skipton Creek. ...Joan Spiker
Michigan
- In Muskegon, Kent County, Michigan there is a Probasco Street named for Probascos who were early settlers of this area. ...Kathi Rider
New Jersey
- Probasco Drive, Allentown, New Jersey.

- Probasco Road, East Windsor, New Jersey. ...Alan Wildblood

- In Hightstown, Mercer County, New Jersey there is a Probasco Road, which goes north from NJ Route 33 east of Hightstown and west of the NJ Turnpike.
Nevada
- There is a Probasco Way in Sparks, Nevada named for George Anson Probasco.
Ohio
- In Cincinnati, Ohio there is a Probasco Street and Probasco Court which were named after Henry Probasco, the merchant prince who made his fortune in the hardware trade.
Virginia
- There is a Probasco Lane in Hampton, Virginia. The lane was built in 1997 when I constructed my house. The builder allowed me to name the street, so I chose Probasco Lane. ...Brian (Probasco) Maryfield
PROBASCO BUILDINGS

- The Probasco Alumni Visitor Center is Covenant College's (GA) welcome center for visiting alumni, prospective students, and their parents. The building also includes small meeting rooms and a guest apartment. The facility, named in honor of Covenant's 5,000 alumni and long-time benefactor Scott Probasco, Jr., also houses the Admissions, Alumni, and Development offices.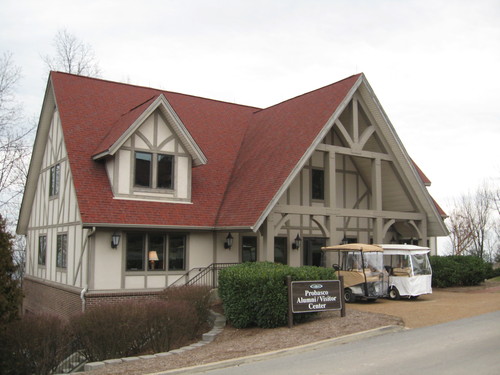 Apparently a Hannah Probasco crossed paths with this cartoonist and writer in a not too positive way.

New-York Daily Tribune, NY, NY, published Saturday, Dec. 18, 1875, Triple Sheet, p. 7

VARIEGATED DRUNKS
PROBASCO BEER

- A fellow who lived in Brazil for awhile says there is a local brewery in Brazil that brews "Probasco" beer. If true, it would seem that perhaps not all the Probascos left Brazil in 1654... [Actually, when in Brazil the family went by Probatski.]

...Kevin Probasco

- Someone even capitalized on a possible Probasco beer with the following clock:

This can be purchased for $49.99 at http://www.ewebtrix.com/make-beer-lights/product_pages/PROBASCO.htm

Back to Home Page
**All Probasco and affiliated surname information, research and family trees are welcome. For suggestions or information sharing, please email me.