PROBASCO IN THE MEXICAN WAR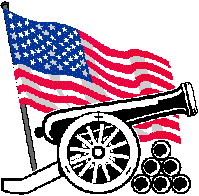 by Nora J. Probasco

Following is a list of Probascos that served in the Mexican War which I have found in my research. If you have a Probasco relative who served in the Mexican War and do not see them on this list, please email me with their information and I will be glad to add it to this list.
George Probasco

Served in 3 Ohio Infantry as Private; died at Camp Curtis, Mattamoros, Mexico.

Jacob Probasco

Served in 4 Ohio Infantry as Private

John Probasco (wife, Sarah Elizabeth Ramsey)

Service: Private, 4th Regiment, Company F, Bartholomew County. Mustered in 12 Jun 1847, at Jeffersonville, Indiana, by Captain Gatlin, mustered out 16 Jul 1848, at Madison, Indiana, by Major H. A. Goff. [4-433]
Back to Probasco in the Military / Back to Home Page
**All Probasco and affiliated surname information, research and family trees are welcome. For suggestions or information sharing, please email me.