PROBASCO IN THE WAR OF 1812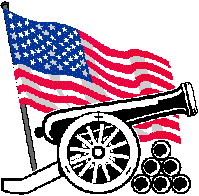 by Nora J. Probasco

(Updated 6 Jul 2007)
Following is a list of Probascos that served in the War of 1812 which I have found in my research. If you have a Probasco relative who served in the War of 1812 and do not see them on this list, please email me with their information and I will be glad to add it to this list.
Christian Probasco 1793-1873

Served in 2 Regiment Artillery, U.S. Volunteers from New York (Col. Samuel Hawkins) as Private and 2 Regiment New Jersey Militia (Seward's) as Corporal.

Jacob Probasco Jr. 1793-1840

He served in the New Jersey Militia in the company of Capt. Wm. Dunn, as a substitute for Peter Myer. He enlisted in Sandyston, Sussex Co., NJ and was discharged at camp Jersey City.

Thomas Probasco 1785-1855

Served in 2 Regiment (Bedel's), New York Militia as Corporal.
Back to Probasco in the Military / Back to Home Page
**All Probasco and affiliated surname information, research and family trees are welcome. For suggestions or information sharing, please email me.